29 Sep

Hispanic Heritage Month? More a Lifetime for Estela Ortega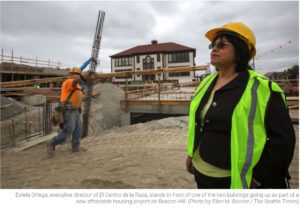 Estela Ortega, Executive Director of El Centro de la Raza, is at the top of the list when thinking of "amazing Seattlites" and "Hispanic Heritage Month." She was already at the top of the amazing list…Hispanic Heritage Month is simply a reason, not a qualifier, to celebrate her amazing heart and far-reaching impact on the lives of so many in Seattle.
In 2016 Ortega was honored as a defender of human and civil rights by the National Education Association (NEA), which presented her with its George I. Sanchez Memorial Award. That same year she also received the Puget Sound Business Journal Women of Influence lifetime achievement award. Ortega and her late husband, Roberto Maestas, were honored among ParentMap's 2011 Superheroes as champions for Washington families. That same year Ortega was honored by Sens. Maria Cantwell and Patty Murray as a 2011 Woman of Valor.
And those honors just scratch the surface. With the October, 2016 opening of Plaza Roberto Maestas, adjacent to the Beacon Hill light rail station in Seattle, more honors and recognition are coming. The recognition is not only for the founders but for the Plaza's design and as a world-class model for community integrated affordable housing. Just this month El Centro de la Raza won a 2017 VISION 2040 Award from the Puget Sound Regional Council for the Plaza. (Read more about the project from the original vision of El Centro, to reviews from the American Institute of Architects and Beacon Development Group.)
For Ortega, the true reward is not only in how integrated the Plaza is to community, but for the inclusive process that informed the $45M project every step of the way. "It was an amazing journey," said Ortega, of the seven and a half years of planning, including a zoning change, and two years of construction.
The idea of inclusion is embedded in the name of the organization, El Centro de la Raza, the center for all races. For Ortega, it goes well beyond ethnic or racial identity and embraces the essence of human dignity in all people. "We involved the community in the process," said Ortega. "When we went before the city council there was not a single naysayer. One council member called it a 'love-in' saying that had never happened before." Ortega credits a deliberate plan for that. They hosted over 30 community meetings. They spoke to parents and families living below the poverty line. They spoke to micro-business owners and transit commuters. Since affordable housing was a critical component of the development, "we talked to people who were homeless, who came to our programs for a hot meal," said Ortega. "No one had ever asked their opinion. We asked them and they had ideas. We helped them write letters to the city council to show support. It was a beautiful, empowering process."
Ortega sees this active involvement by people who may be seen as disenfranchised as an important lens into how El Centro serves people in need. "We want to help parents be involved in their child's school and education; We also want them involved in understanding how structures in a City work, from the City Council to the Mayor," added Ortega. "We help people get involved in local neighborhood associations so they can weigh in on situations such as accountability and trust building with police, and with what's happening at national level with a new administration.
Also known as the Beloved Community, Plaza Roberto Maestas is a mixed-use development of 112 affordable housing units (many with two to three bedrooms with families in mind), micro-businesses, a child care facility and open space for concerts, movies and more. It's all connected to the transportation center so that it serves as a destination and as a pass through space for thousands of commuters, who can stop to hear music or grab a cup of coffee, enjoy a delicious taco or more every day. "All large cities are facing a crisis of affordable housing within their cities. We have captured an audience of people of all races and walks of life right outside our door. It's a chance to involve them in a national dialogue."
When asked what community members can do to support El Centro and community building in general, Ortega says "One of the things is very simple. You have to show up. People need to be very deliberate about it. If you say you want to build relationships across diversity, add language to your mission and break down barriers. Map out how you do this on a monthly or daily basis. Go to an event. Support a gala. Volunteer," says Ortega.
"Multiracial unity is so important to us," says Ortega. "The media does not promote the good that is happening. Our volunteers not only perform very necessary tasks, but they build relationships with real people which breaks down barriers and stereotypes of what people see in the media."
On Saturday El Centro de la Raza celebrates its 45th Building the Beloved Community Anniversary Gala, with over 40 sponsors and key note speaker john a powell (his talk is sponsored by the City of Seattle Civil Rights Division). The annual Gala is El Centro's largest fundraiser of the year to support the children, youth, families and seniors in their programs.
El Centro's co-founder and the new Plaza's namesake, Roberto Maestas, had a vision for a community integrated, inclusive space, since he and three of his colleagues (The Gang of Four, or Four Amigos) occupied the abandoned Beacon Hill school in 1972, demanding that it be turned over for use by the community. Starting with the school, El Centro De La Raza has grown to an $11M social service agency serving 16,000 people, with 140 employees and engaging 1,300 volunteers (representing 28,000 to 30,000 volunteer hours) every year. That's in addition to running the new development with its housing units, retail office, cultural center and micro-businesses.
National Hispanic Heritage Month (September 15 to October 15) has its roots in 1968 and celebrates the heritage and culture and recognizes the generations of Hispanic and Latino Americans who have positively influenced and enriched the United States.
Photo Credit: Photo by Ellen M. Banner / The Seattle Times on Seattle Globalist