16 Feb

Elmer Dixon among Speakers, Performers at Festival Sundiata for Black History Month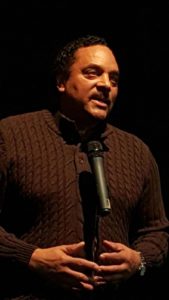 Elmer Dixon, president of Executive Diversity Services, was the Featured Speaker among dozens of artists and performers at the 2017 Festival Sundiata's Black History Month "Cultural Xpressions". The Sundiata African American Cultural Association presented the event February 10-12 at the Langston Hughes Cultural Arts Center in Seattle. The weekend long celebration kicked off with a fashion art show and reception at 6 pm on Friday and continued with dance, art and exhibits, lectures and more, through 6 pm on Sunday.
Dixon, a long-time civil rights leader and a leading international trainer and lecturer on diversity and inclusion issues, took the stage on Saturday and Sunday to talk about current events and how individuals can effect change in their communities.
"Be ever vigilant and ask questions," counseled Dixon. "Don't be fooled by the intentional distractions coming from 'fake news' while our liberties and freedoms are being threatened," said Dixon. "The lives of our children and grandchildren are at stake. Stand up and be counted among those that are taking action by doing something that makes a difference."
According to festival organizers, Festival Sundiata is named after King Sundiata Keia, the legendary King of the Mali Empire of West Africa. Festival Sundiata celebrates the rich history of West Africa and the African American community of Seattle.
Thousands of guests enjoyed live performances including Earth Wind & Fire tribute band Kalimba, Carmen Saizonou, and recording artist Evelyn "Champaign" King. Other musical acts, African dance and traditional drumming as well as unique forms of storytelling and savory traditional dishes from local vendors filled out the weekend.
Created to tell the rich history of the African community, the festival promotes hands-on activities including African American History presentations and dance and drum workshops, alongside arts and photography exhibits from members of the African community. Programs for the whole family included African doll making, Zumba class, cooking demonstrations and more.