11 Jan

Elmer Dixon Portrait among "Seattle Icons"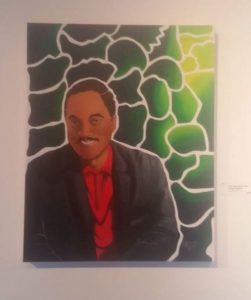 An anonymous donor commissioned Seattle Artist Adrienne La Faye to paint portraits of "black icons of the past" to exhibit around Seattle, and brothers Aaron and Elmer Dixon were front center in the exhibit of her work as well as in the history of the civil rights movement in Seattle.
"I'm still here," joked Dixon, on being recognized as an icon of the past. La Faye said that often her pictures paint themselves. In the case of Elmer's portrait, "I decided to put light coming from it. In looking at photos of you I felt a new outlook that was still very seeded in your foundation."
Intercultural Conflict Management for Police
Yes, affirmed Dixon, "I always look to the light, always have new information and am always looking to the new." That is true now with the recent work of Executive Diversity Services that applies theories of Intercultural Conflict Resolution to police work, giving officers tools to help deescalate situations while respecting their critical and important work in public safety.
"I'm honored to be in one of the portraits along with my brother Aaron."
See Elmer's Facebook LIVE tour of the exhibit and talk with the artist from the January 8 opening event.
12 Annual Juried Exhibit of Seattle African American Artists
The portrait was included in the 12th annual juried show, Truth B Told, presented by Onyx Fine Arts from January 8 to February 4, 2017 at the historic King Street Station (303 S. Jackson Street, near Pioneer Square in Seattle). "This is the largest African American Artist exhibit EVER for the pacific northwest to have taken place. This is truly and epic and historic event, that's a must see for all," Onyx Fine Arts says on their website. Featured artists include Barbara Earl Thomas and Marita Dingus among others.
Artist talks take place on Saturdays in January from 1 to 3:30 PM and a closing reception is scheduled for February 4. Visit Onyx Fine Arts for details.